Alice is the princess of South Pacific Ocean and her mother is the queen
Alice Tasuki
250px


Age

14-19 (Anime) 12-13 (Manga)

Family

Gender

Female

Ocean

South Pacific

Pearl

Teal pearl voice

Songs

-2 in a billion.(by G Hannelius). -Catch my breath.(by Kelly Clarkson. -Bad Romance.(by Lady Gaga)

Height

168 cm

Weight

50 kg

Birthdate

 Februrary 29 (same as her mother)

Blood type

B
She is Coco's daughter.She has a twin sister and an adopted sister.She is the current princess of South Pacific Ocean and her mother is the queen.Alice has a pet named Mickey.Her hobbies are singing,dancing,drawing,writting and acting.Her favorite food is vanilla ice cream.She is Coco's daughter.Like her sisters she never met her father.
Apperance
Edit
Alicce's hair are ocean light blue,a teal tail,one blue bangle,two yellow bangles and light turquoise eyes.
Alice has dark teal eyes and her hair become shorter but turn also teal .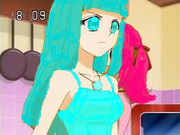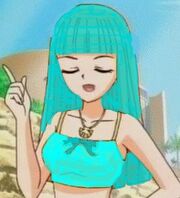 Ad blocker interference detected!
Wikia is a free-to-use site that makes money from advertising. We have a modified experience for viewers using ad blockers

Wikia is not accessible if you've made further modifications. Remove the custom ad blocker rule(s) and the page will load as expected.