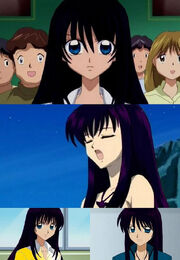 Polish:

Imię: LoriNazwisko: KatayamaData i miejsce urodzin: 11 czerwiec 1994. ?Znak zodiaku: Rak , BliźniętaMiejsce Zamieszkania: Pearl PiariKrólestwo: Mieszkała z Sarą w jej królestwie po wyjeździe brataPerła: Ciemno fioletowa Piosenki: Eternal Snow , New FutureWzrost: 176 cm.Waga: 55 kg.Ulubiony Przedmiot: HistoriaUlubiony kolor: Pomarańczowy , Żółty , Niebieski i Fioletowy.Rodzina: Jej brat wyjechał do ameryki , a matka zmarła po jej urodzeńu. Brat się nią opiekował do 15 roku życia , po tem zaginela.Wrogowie: Gaito , Black Beauty Sisters i na chwile obecną Rina Toin ( zielona syrenia księżniczka )Charakter: Miła , cicha nie lubi się wtrącać w nie swoje sprawy.Zainteresowania i Hobby : Lubi spędzać czas z Noel , Coco i Haną. Uwielbia czytać książki , słuchać muzyki i patrzeć na morze.Wygląd : Ma długie , Ciemno fioletowe włosy z grzywką opadającą jej na oczy.Jej oczy są koloru niebieskiego. Stylowo ubiera się jak chłopiec. Jako syrena ma trochę jaśniejsze włosy a oczy zmieniają kolor na jasny fiolet. Jej syrenie ciało nawiązuje do muszelkowego naszyjnika, który jest ciemno fioletowy, ze jasnymi fioletowymi skrzydełkami. Stanik i bransoletki są fioletowe, a ogon też fioletowy.Nie wiemy jak wygląda jako idolka poni jak przebywała z Sarą jej perła znikneła.
Ad blocker interference detected!
Wikia is a free-to-use site that makes money from advertising. We have a modified experience for viewers using ad blockers

Wikia is not accessible if you've made further modifications. Remove the custom ad blocker rule(s) and the page will load as expected.