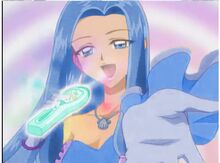 Reina Suzumi is the third mermaid princess to appear in Mermaid Melody Pop Stars and is the keeper of the Mint Pearl. She is also a protagonist.
Reina is a shy girl who loves to cook and is very good at it. She brings her delicious creations to school, but never shows anyone, due to a serious accident when she was in kindergarten. She was on land for a long time. She lives in a suburban house with her single aunt Chokorato, a popular chef on a cooking show. Reina wants to be just like her aunt. Reina is Serena's third friend.
Reina has short dark green hair worn in pigtails and brown eyes as a human, and light green hair worn in longer pigtails and dark green eyes as a mermaid or idol. She looks as if she were seven, according to Serena. Of course, that hurt her feelings.
Birthday: May 12
Star Sign: Taurus
Blood Type: A positive
Birthplace: Hilo Bay
Age: 14
Favorite Subject: Cooking
Least Favorite Subject: Geography
Favorite Food: Green Vegetables
Least Favorite Food: Sour Candy
Favorite Color: Mint Green
Favorite Flower: Hibiscus
Favorite Type of Boys: Kind and Gentle Boys
Ad blocker interference detected!
Wikia is a free-to-use site that makes money from advertising. We have a modified experience for viewers using ad blockers

Wikia is not accessible if you've made further modifications. Remove the custom ad blocker rule(s) and the page will load as expected.