Serena Himemiya
The mermaid princess of the Mid-Pacific Ocean.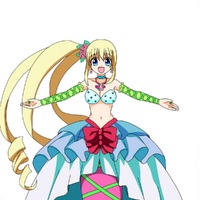 Profile
Name: Serena Himemiya (セレナ姫宮 Himemiya Serena)
Race: Mermaid
Age: 14
Birthday: August 22
Birthplace: Mid-Pacific Ocean
Blood Type: O
Personal Information
Star Sign: Leo
Alias: Rainbow Pearl Voice
Hobby: Singing, Dancing
Talent: Drawing
Favorite Subject: Social Studies
Least Favorite Subject: Math
Favorite Color: Rainbow/ All Colors
Favorite Flower: Lotuses
Favorite Food: Lemonade Candies
Least Favorite Food: Cole Slaw & Fennel
Favourite Type of Boy: Protective Boys
Hopes to Go: France
Image Songs: Shinkai Shoujo, Forever Yours
Profession: Mermaid Princess
Relationships
Love Interest: Gaito
Best Friends: Aya, Reina & Karin
Production Information
Voice Actress: Momo Kise ( Japanese)Ichigo Nagone (OsakaPop Dub)

Serenity Nowles (English Dub)

Maria Losé (Spanish)

Freida Jenson (Italian)
Position in the Series: Protagonist
Serena Himemiya (セレナ姫宮 Himemiya Serena) is the main protagonist of the anime and manga: Mermaid Melody Pichi Pichi Pitch. She is also the keeper of the Rainbow Pearl.
==
Personality == Serena was born with a talent for art. She secretly dyed her hair golden blonde when she really had dirty blond hair. She has a hot temper around her brothers, but she is shy and a crybaby at school. She is fun-loving and energetic around her friends, though. She is somewhat of a dandere.
Serena's Appearance
Edit
Serena has long orange hair in her human form and long blonde hair while as a mermaid or in her idol form. She also has blue eyes in her human form and as a mermaid or an idol. She usually wears a Rainbow Necklace shaped like a winged sea shell that contains her pearl.
Forms And Aspects
Edit
As a mermaid, Serena has to transform into a human in order to stay on land. When she is facing a enemies , she transforms into her idol form, Rainbow Pearl Voice. and uses her voice as offensive attack.
Human Form

Edit
Serena's mermaid form and her human form contrast the most out of all the mermaid princesses. She has long golden blond hair and blue eyes while on land and long lighter blonde hair and blue eyes as a mermaid. She's mostly seen wearing a pink and red sailor style school uniform.
Mermaid Form

Edit
Serena's mermaid form is the same as every other mermaid princess, with a bracelet around one of her upper arm and double pearl bracelet around one of her wrists and her tail. Their all different colors.
Idol Form
Edit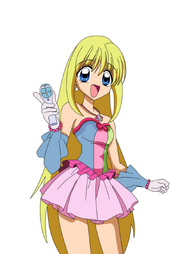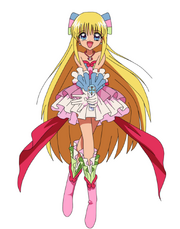 When facing the enemies, Serena transforms into her idol form, Rainbow Pearl Voice. In her idol form, she sings with the rest of the mermaid princesses to defeat the enemies by singing songs that convey their true emotions.
Serena's powers in brief are:
Serena can sing in a very high pitch to a very low one. She can sing in various accents. She can also do rap. Her character songs are:
Mermaid Tear
Myself (by Changin' My Life)
Eternal Snow (by Changin' My Life)
Rock and Roll Princess (by THE SCANTY)
I Love You (by THE SCANTY)
Ad blocker interference detected!
Wikia is a free-to-use site that makes money from advertising. We have a modified experience for viewers using ad blockers

Wikia is not accessible if you've made further modifications. Remove the custom ad blocker rule(s) and the page will load as expected.